..although there is some.But not that bad right?hehe.blek.
Oh it's sam sam sam Sammy Oh's birthday todae.Nineteen years he's been living.Yeap yeap.Good brother he is.Yeap yeap.Still remember the time when we were living in Muar for about 6 months i think, i used to don't wanna go to my kindergarten class.I cry and usually i'll get to go to his class.Haha.Fun fun.I get to see other kids pick their nose and eat their boggie or something.haha.Then I couldn't remember this incident, but this is what they said happened la.
One day he overheard my parents that they'd be in the church, so that means nobody was to be home.He told the bus driver[i sat a SCHOOL bus!!too bad i can't remember.wasted.i'll never get to teach my kids how to take a sch bus] to go to the church.Found out that they wasn't there through his analysis of no-sign-of-parents'-slipper-or-shoe outside.So he piggy backed me till some roundabout and then i think my parents saw us and there.He used to be so nice.Haha.Still nice la, but like to bully and disturb.Actually still kinda the same.haha.Bleeh.
Oh another story i heard too.When I was a baby, my mom left me outside on the porch in the thing where you lie down and somebody will push the thing and the thing will bounce thingy.She went inside for awhile and when she came out I was gone.She saw Sam playing with his airplane looking mischievous.Don't know what came into her mind and she looked underneath the car.Lo and behold I was there.He pushed me underneath the car.
Thats the brother.Glad to have him as a brother.Good looking *cough**cough*,kind, great, loving, singer, musician, God lover and worshipper and much much much more other stuffies a brother would be like.He seems maybe more extraordinary.Can't believe I said that.Haha.Oh he still owe's me 50 bucks.Ahem.
Happy Birthday Big Brother.Love ya!
......................................................................................................................
CF today was fun.Jesus Fever was the theme.Affected by football fever which I DON'T have luckily.Yaye.Wanted It to be Jesus Mad Nation.They changed it i guess.Played games and later on Priscilla shared a little.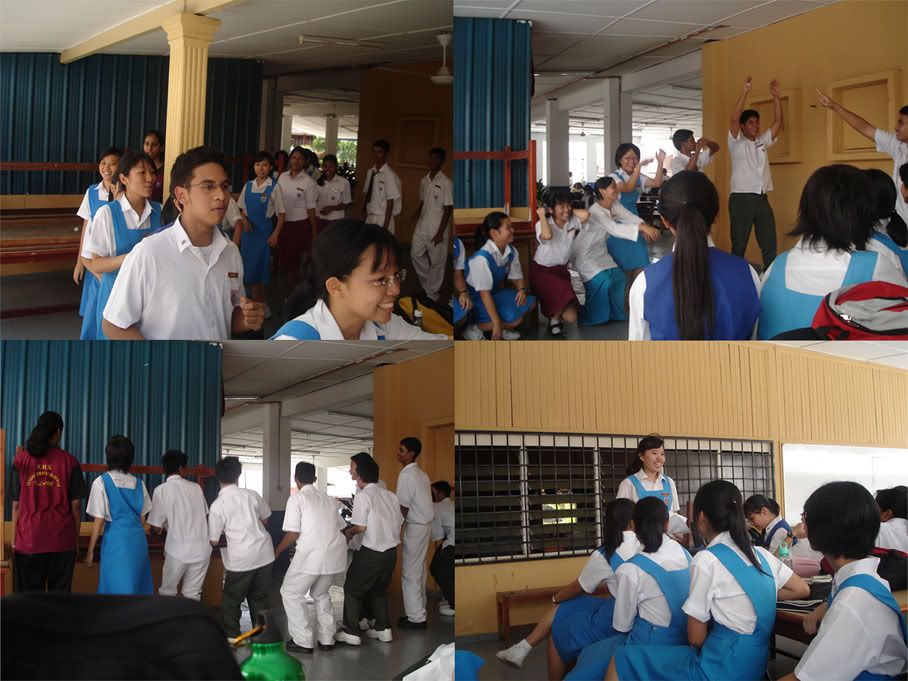 I finally tried sch's ice cream.I want paddle pop's rainbow[ori one!!]!!!!!!!!!!!Somebody get me one.....pwetty pwease..