Rally was a few days ago, it was great great great!Had so much fun and I don't know why.During prayer walk when we walked around the hall seven times while praying, I could really feel God's presence there.So I know he really did work His way during rally.
Went to Hin Hua at around 3 or later..Yea i went late.They were already started praying and all those who was involved was there.After that was the prayer walk as i've said.Finished kinda late and some time were given to the performances and worship team.Got our shirts and stuff and tags and practiced after that.The keyboard that I used when I looked at it I was like ........ literally.Super blur la.I didn't get to go home because of that keyboard la.Had to go try all the sounds.At last i did found some of it and the rest I tembak use only la.Darn confusing cause it was for "professionals" wan.But all was well cause I turned on my keyboard's volume down so didn't really spoil anything, i hope!Fun fun.Took our before shot of the worship team and then we all went to get ready.
After that I went down stairs to meet him.Hehe.He came!Yaye.Before going back up, met some friends and talked to Yh and Adrian for awhile.Handed my camera to Tjen and ran back up stairs to make sure everything is prepared.Seaw Chin finally gave the cue for the ushers to bring up the people awaiting downstairs.
Before the whole event while some of us were setting up the chairs, I was asking how many chairs are there.800 was what I got and when all the people came up and went to theirs seats and I looked from the stage, all the seats were filled and there were even more who were standing at the back.I was like, wow.And later the ushers was still taking out more chairs for people to sit.
This time the praise and worship was the "opening" or some sort.Priscilla and Sara started from the back and we musicians and back up singers went on stage and it starts!
Pictures from the night: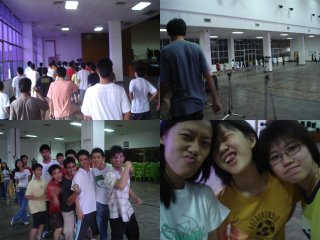 Prayer walk, the guys while waiting to buy their shirts and just plain posing spastic faces.
Emcee's, ushers and the crowd waiting.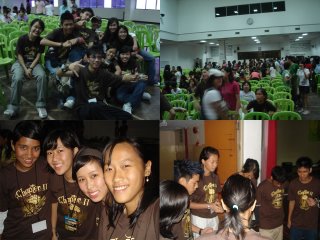 Worship team, incoming crowd, 17 year old's and praying before going on stage.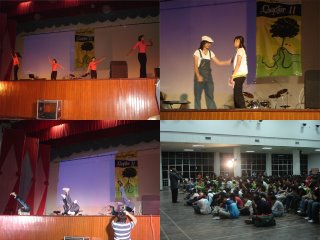 The performances of the night and Pastor Shaun Prasad preaching.
More pics to come.Waiting for the rest of the pics.Me camera all blur shots.Not I snap wan ar!hehe
To be honest I didn't really get to hear the message that he was sharing.I really wanted to but then certain circumstances made me unable to hear it.And I don't think I made much effort also la.Was walking around a lot too.Well alter call was good.If I'm not wrong the total of salvation and souls saved was 83 i think.*Yaye*.The night then ended with some praise songs and the emcee's wrapped it up.Talked to a few friends and started camwhoring as usual la.
Oh my camera actually kinda spoiled during the performaces and stuff.The buttons went haywire for i-don't-know-what reason.But when we were on our way the Mcd's it came back to its senses for i-don't-know-what reason too!Thank gooodness.
Some crap I mixed and put in a saucer.Looks gourmet-ish right!Hehe.This was during lunch on Sunday in Pak Li after running out from Ah Ma's Kopitiam.So shy, Wei Ren [if i'm not wrong] told me he saw us.Hehe.What to do, nothing to eat mar.
My lil baby Apollo!! from the night during Italy and France's match.France lost.Oh man another craving.Nnnooooo.My eldest sister was being such a loving sister bought me 4!! packets of Apollo's just now.Hehehehe.Thank you jie!